Click the blue links for more information
Click the image to order
FIRST TIME IN MODERN EDITION
AN EARLY 18th-CENTURY VENETIAN CANTATA
The Venetian Benedictine priest and composer Diogenio Bigaglia (c. 1676–c. 1745), who was highly esteemed by his musical contemporaries, wrote the dramatic cantata Plutone e Proserpina around 1710. Scored for soprano, contralto, strings and continuo, it represents his vocal chamber music at its most ambitious and attractive. The twelve short movements comprise five solo arias, one aria for both voices singing in turn, a duet and five recitatives. The cantata's subject – Proserpine's gradual reconciliation to her kidnapping by Pluto, who wants her as his bride – is treated in masterly fashion by the author of the text, Antonio Ottoboni, who was a leading poet in Venice at the time. There is no better work through which to become acquainted with the fascinating but still little-known figure of Bigaglia.

Read more
THE SECOND OF THE 'PARIS' SYMPHONIES ARRANGED FOR STRING QUARTET — 'LA REINE'
Issued in Vienna in 1788 by Artaria, Haydn's favoured publisher, this long-forgotten string quartet was, according to the title page, arranged by the composer himself from his Symphony No. 85 in B flat major ('La Reine'). Circumstantial and musical evidence suggests that this may well have been the case. String quartets everywhere will welcome the appearance of the first modern edition of this notable work, which has largely been ignored for over 200 years.

Read more

| | |
| --- | --- |
| | eds. David Wyn Jones & Simone Laghi |
PIANIST IN LOCKDOWN?
Why not take the opportunity to try out Hummel's authoritative solo arrangements of Mozart's piano concertos?

Watch Gigliola di Grazia play the Larghetto from the soon to be released Concerto in D major, K537.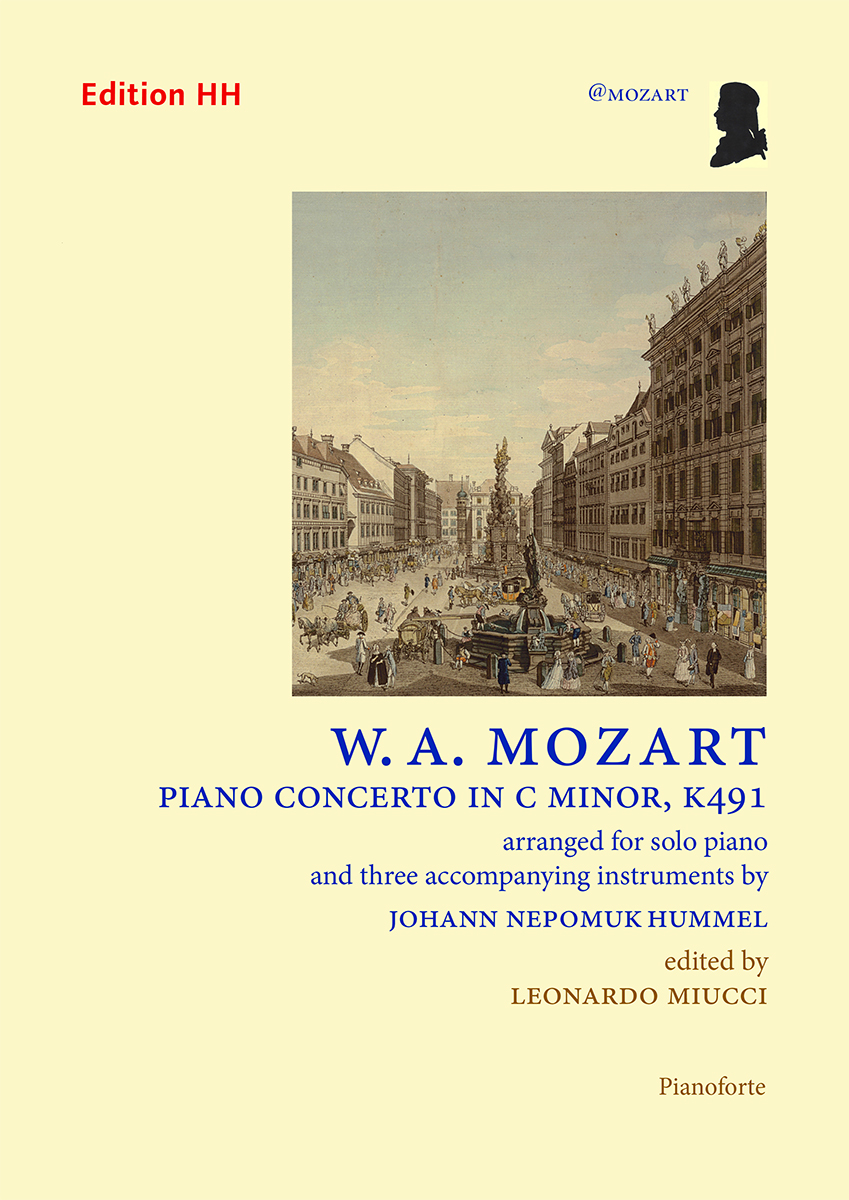 More information
Released in April for two flutes
Boismortier's numerous musical achievements include composing the first (and probably the only) concertos for two unaccompanied melody instruments, namely his Op. 38: VI Concerto pour 2 Flutes-traversieres ou autres Instrumens, sans Baße. These remarkable works date from 1732, by which time he had already written several sets of sonatas with the same scoring. But unlike the sonatas, which generally conform to the Italian sonata da camera and treat both instruments equally, the Op. 38 concertos are based on the Vivaldian three-movement concerto and tend to privilege the first flute, the second frequently relegated to providing a pseudo-bass accompaniment.

Read more
These contemporary waltzes got a splendid review in Pianodao
In these two short piano pieces, Italian composer Adriano Cirillo (b.1951) has sought to capture in music the elusive qualities of nostalgia and melancholy that Charles Baudelaire designated as "Spleen" in his legendary late 19th-century collection of poems Les Fleurs du mal.

"Cirillo certainly has an acute gift for spinning a melodic line; here the main tune weaves its way beautifully through the delicious harmonic twists that underpin it, and will surely delight and melt the hearts of listeners everywhere."

Read Andrew Eales's review in Pianodao



The Little Ballerina is included in the Grade 6 Piano syllabus of the Associated Board of the Royal Schools of Music
Den lille danserinnen ('The Little Ballerina') evokes a charming, gracious, light-footed dancer, while Nocturne makes the piano sing in the romantic tradition. Both these delightful short pieces would be ideal encores!

"I love these two little pieces, and I am sure many late intermediate players will enjoy them equally."

Read Andrew Eales's review in Pianodao




.

| | |
| --- | --- |
| List of works published and in press | |

You can download the current catalogue (pdf) by clicking the cover on the right.